Exceptional design breakthroughs define our everyday life experiences, whether the design is as high profile as the Olympic Torch created by the UK design studio Barber Osgerby for the London 2012 games; or is of the design nature that conveys the brand identity of companies we buy from everyday.
This blog will present one angle on the design industry and how it contributes to the British economy as we talk to two very different designers…If you are a designer at heart, or are considering servicing designers, then perhaps a StartUp in this industry is for you?
There are more than 200,000 Designers in the UK and the design industry is a £15bn revenue market
This is based on the recent Industry Survey conducted by the Design Council. Despite the cinematic stereotype of starving artists and struggling unknown designers, we see glimpses of the limelight: There are annual Design Awards featured in BBC and all major media. And with events such as the British Library's Annual Spring Festival and Birmingham Spring Fair which attracts upwards up 17,000 artists and buyers from all over the world every year, it is clear that Britain is as proud as ever of its artistic culture.
Marco Crosta,
Creative Director of Marco Coco
We caught up with Marco Crosta, Creative Director and Graphic Designer (and Head Honcho) of Marco Coco. Marco is based in Surrey and left agency employment in September 2012 to start his own company. A brave move (some may say) in the face of a recession, but with 12 years of experience specialising in branding global entertainment licenses within the toy industry- or simply- "a Toy Branding Designer," it was really just a matter of time. Marco left the security of previous roles heading up the design departments of the UK's leading toy manufacturers and distributors to continue working with such licensees as BBC, Disney, Lego and Mattel. A self-proclaimed 'big-kid', he is just absolutely enjoying the experience of creating designs born from love and creative passion rather than cash incentive!
Why?
In his words: "In times of recession, designers are often the first to go. Oddly enough going freelance in a recession is often the best thing to do, I'm not the only who has made this leap after years of in-depth experience in the field. Most businesses are inclined to go through freelancers to cut costs. What they get in effect is the same designer they would have paid for twice as much 2 years before."
Timing and Timekeeping  
Going solo at the right time means being able to contract to companies you have built good relationships with over the years, while you hunt for new design commissions. And this is one of the key reasons Marco is busy all the time.
Marco shares that one of the best things (and a challenge at the same time) is having more freedom. "When I say freedom it's not at all about shying away from the 9 to 5. Designers will often work until the design is done, we're talking crazy hours. You sometimes lose the freedom to be a designer from start to finish when you're in-house." He shared how the design idea morphs quite a bit from a client brief, and what often happens in agencies: "…the idea gets bastardized from original concept to delivery in a way where the beauty of the design can get lost in the alterations by so many different influences." He adds, "When you are managing the account as well as leading the design direction, you have more control from concept to fruition."
Exhibitions and Networking
Calling on some basic marketing knowledge, Marco's annual strategy calendar involves having a presence in the key exhibitions for designers to make contacts. It's the perfect environment to display his portfolio in the correct context.
This year's Toy Fair was an amazing albeit exhausting avenue for the likes of Marco. So after a stint in-house airbrushing Ken at Mattel, he- like many young designers- immersed themselves in this year's British Toy Fair. He left us with one last great story: after days of networking and arranging meetings at his booth, he immersed himself in the commissions he acquired at the Fair with a variety of projects along with designing scooter ranges, branding electronics and an ever-expanding roster of exciting new clients
Malin Granfors,
Illustrator and Creator of Bradadoo Greeting Cards
In 2009, The UK Greeting Card Industry was worth over 1.7 billion annually, according to the GCA Market Report – more than tea and coffee put together. It is the most successful greeting card industry in the world with 800 publishers producing over 1.5 billion greeting cards in 2009 for the greeting card hungry British public.
This was the tipping point for Malin Granfors, an Illustrator based in London:  She uncovered this piece of research, and after working long hours in a job that wasn't her first calling, she decided to make a business out of her lifelong hobby of illustrating. She entered the greeting card industry in 2010.
Drawing from an idyllic rural Swedish childhood and years spent back-packing the globe, she created Bradadoo, which produces a range of innovative greeting cards. The cards are based on the childhood game of 'fortune teller'. She illustrates, creates, and distributes the cards around the globe. This gives back to people a little piece of creative design for all the endless joy she has found in travelling it.
On getting the details right from Day One 
More in-depth research confirmed what she suspected: no one was creating greeting cards that elicit childhood memories in a 3-dimensional interactive way. So she did a test batch, created a Business Plan, spent time with Business Mentors and was one of the most popular booths in Birmingham Spring Fair 2011.
No other country has such a tradition of card sending or card display in the home – the sending and receiving of cards is an important part of British culture. Malin had a great idea for a card no one was producing then.
Pearls of wisdom
Doing one of the first things absolutely right, Malin invested in a copyright license before even releasing a catalogue.  "…it was very expensive but well worth it to make sure no other supplier would simply steal the idea, find a way to reproduce the illustrations and sell a cheaper version of my original design. If there's one thing I can share with any designer: protect your intellectual property. It's also very very important, I can't stress this enough: think about the POS display. What will attract different people in different retail setups? Research and actually visiting the stores is crucial."
A quick snapshot of Bradadoo's Success: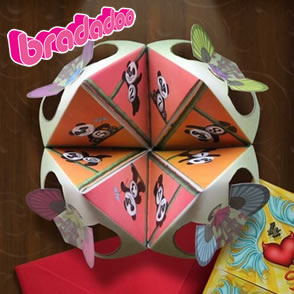 Based on the endearing playground 'fortune teller', these illustrated 3-dimensional cards with unique cut-out features is suitable for all ages, as a playful, sentimental card and a gift all in one.
Since its launch in 2010, Bradadoo greeting cards have been given positive feedback. Orders have been made by several leading international distributors, along with several gift shops, galleries and museums in the UK. It also ships to gift shops in Ireland, Switzerland, and Canada.
Is the Design Industry for you?
Designs of the future can often from strife and challenges. Perhaps this is why Creative Entrepreneurship was growing twice as fast as the rest of the economy in 2007 and is being given increased support from several government organizations today. The Design Council has various support networks and guides and Creative Review often conducts research and releases publications for designers and artists of every speciality.
The 'Design Industry' is vastly inclusive of several disciplines and as with all pursuits. Soften comes to those who have recognized the demand for what they do, and have been able to define their exact target market. After all, design itself has a large target audience, thus it makes sense that the potential revenue from it can be quite substantial.  As aptly put by Andrew Marr: "However loosely you define design, objects which make life a little easier – or which decorate our minds – are inseparable from current and future prosperity."
Is the Creative Industry for you? Here's an Infographic on average incomes and more from creativereview.co.uk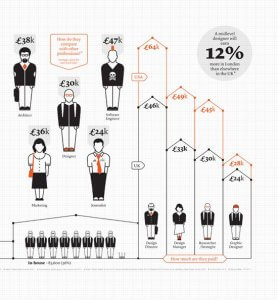 Source: creativereview.co.uk via Build British Business on Pinterest
Published Thursday January 9, 2014